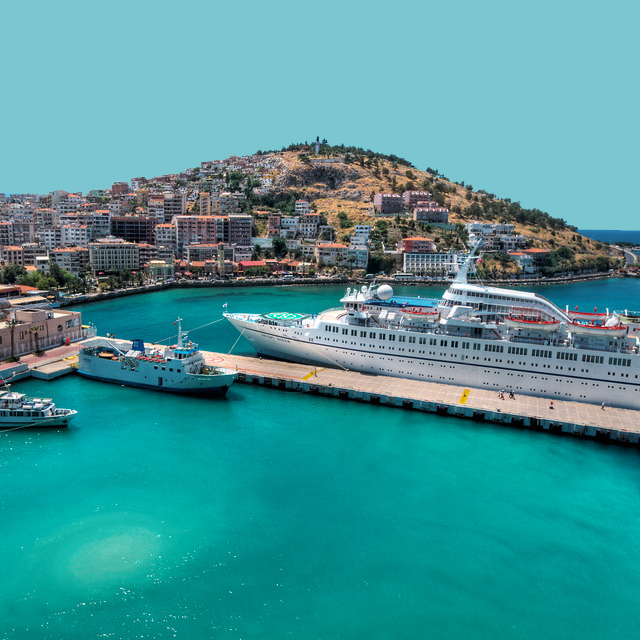 Kusadasi is one of the busiest holiday resort towns on the southern Aegean Coast, a lovely area heaving with visitors during the summer who increase the normal population tenfold – Kusadasi is a must see for anyone visiting Turkey.
Whilst Kusadasi was always a small village, today it is a bustling town jam packed with curios, carpet and leather shops. Kusadasi is centrally located for Ephesus making it an ideal for Aegean cruise ships to dock. Situated amongst some of the best and prettiest coastal scenery, and many historical archaeological sites, there is something for everyone. Ideally located for all you could imagine in Turkey.
Kusadasi has two main international airports, the first being Izmir International Airport which is approximately 80km away, and the other one is Bodrum Airport about 130km – making Kusadasi superbly located and well connected throughout Europe. Once at the airport there are three ways to reach Kusadasi, via tour operator coach if you have a package holiday, private transfer or hiring a cab.
LOCATION
Kusadasi is located on the Aegean coast of Turkey, and is one of the busiest and most well known holiday resorts of the country. People choose Kusadasi because of the spectacular beaches, crystal blue waters and nightlife. Daytime see most people enjoying the sun and swimming or taking part in water sports on the beach, by evening they expend their energies at the clubs, dancing until sunrise. It is a very popular resort with the young Irish and there is a special street of bars dedicated to them. With several Irish bars side by side.
In many Muslim countries it is forbidden to serve alcohol, however in Turkey all the restaurants and bars will serve alcoholic drinks such is the relaxed lifestyle in Turkey. Kusadasi tends to be the place for wild, crazy unforgettable nights. However, it is not all partying as others come to enjoy and visit the old historical monuments, which are in abundance. Kusadasi sits between Greece and Rome and this makes it an ideal location for visiting either on a day trip. There is also a strong religious connection as there are seven famous churches all located in and around Kusadasi, hence most religious visits or pilgrimages' will choose to stay in this resort.
Kusadasi welcomes all, there are many things to do in Kusadasi, whether you are looking for cultural, religious or just some fun in the sun. Kusadasi is seasonal town and 15th April sees the town awake as the summer season begins while on the 15th October it goes into hibernation with everything closing down for the winter – for this reason, Kusadasi is probably most used as a holiday destination for those who purchase property here, for more year round destinations, you could look further down the coast.
POPULATION
Kusadasi has an average population of 50,000 people, however during the summer months this will rise to over half a million. It not only caters for those arriving by land but there is also a port for cruise ship passengers that are heading to Ephesus.
The majority of the old houses that are near to the seafront have been converted into restaurants, bars or cafes and these are all that is left of the old Kusadasi as the town has taken on a much more modern European feel. The distant hills are home to big hotels and blocks of holiday flats. Old houses near the seafront, some of them converted to bars and cafes, are the remnants of old Kusadasi, which has become a modern-European looking town. The hills behind are built up with big hotels and blocks of holiday flats. The building boom that began in the late 1980's is still ongoing in Kusadasi and its surroundings today.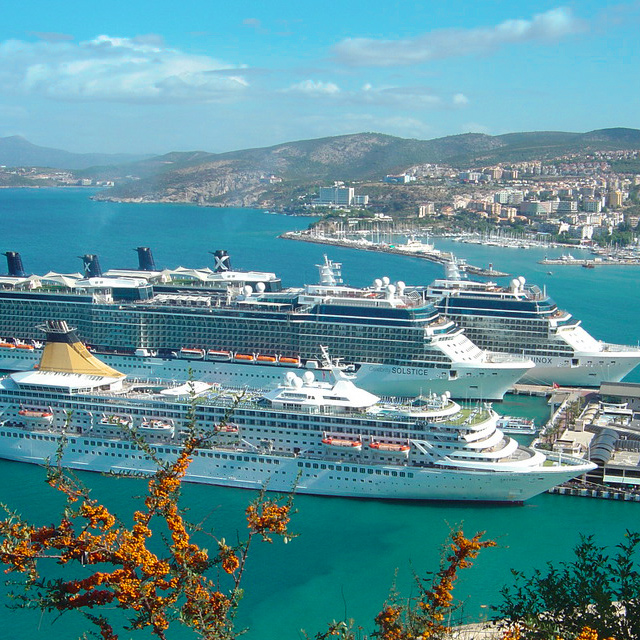 CLIMATE
The Aegean and Mediterranean coasts enjoy a predictable Mediterranean climate with hot summers and mild winters, the hottest time being July and august when the weather will average 30C and above. Rain showers are very unlikely during the summer months; however the rainfall is quite high during the winter.
Aydin is the state capital of Kusadasi, and Izmir has the nearest weather-temperature to Kusadasi, and April through to October is the best time to holiday, although crowded and in the height of the summer temperatures can soar to 45C. During the winter period the cruise ships will stop but most of the places are shut and the local people then deal with the agriculture.
QUALITY OF LIFE IN KUSADASI
Geographically and climate wise, Kusadasi has everything you could desire. The standard of living comparable with the UK is dramatically cheaper up to 50% which means that you can buy a much better standard of property and enjoy a better lifestyle at over half the cost, making Kusadasi an extremely attractive option for many.
Kasadasi seems to be a firm favourite with investors hoping to combine pleasure with profit, with the average investors making 15-20% profit on property sales in recent years. Many people have made money on property in the recent years, and there is still a vast amount to be made when investing with the right international real estate company.
THINGS TO DO IN KUSADASI
There are so many things to do in Kusadasi. Kusadasi is a vivacious resort that really has something to offer everyone. From exploring to relaxing or bagging some fantastic bargains, Kusadasi has it all. Amongst the many things to do and see the following should certainly be included on your itinerary:
1. Ephesus – take a tour of the ancient city and visit the peaceful Virgin Mary house.
2. Pigeon Island or Bird Island, visit the old Byzantine Castle or simply sit and enjoy the stunning panoramic view of Kusadasi.
3. Adaland and Aqua Fantasy are the two main water parks in Kusadasi.
4. Selcuk Market, every Saturday from early in the morning until late at night. Pamukkale is one of the most extraordinary sights in Turkey. Take a dip in the enchanting thermal spring known as Cleopatra's pool.